Testimonials & Transformations that will inspire you to make a transformation of your own, made by real women.
Christine is a full-time mum to 2 kids, including a fur baby. She works as a full-time nurse and runs a household. Christine came to Goddesslife looking to increase her energy to keep up with her day-to-day life. Our convenient training sessions of only 30 mins ensured that Christine gets everything she needs to get in and get out of the studio, ready to take on her day!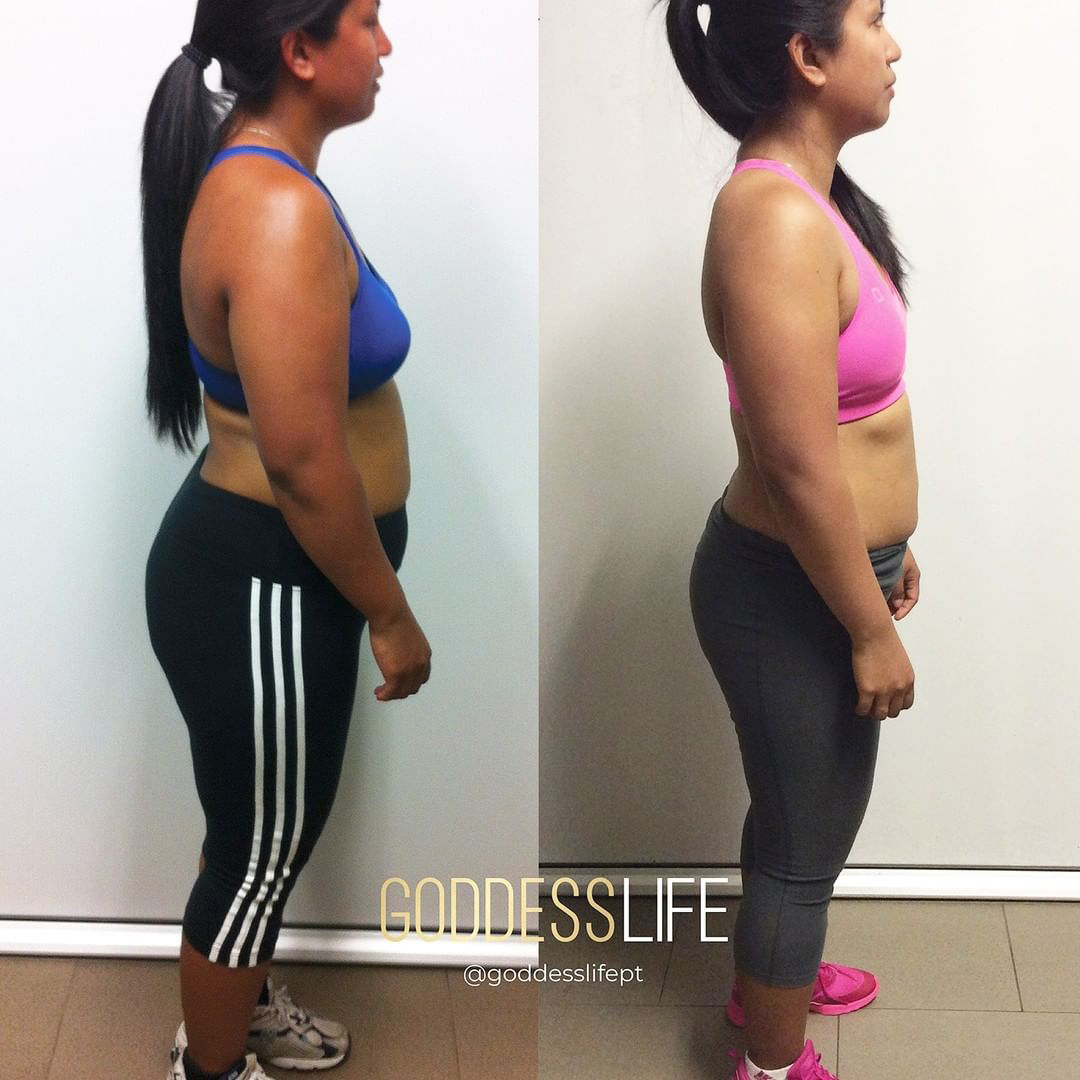 This superwoman lost an amazing 32.3kg in under 12 months! But this transformation is more than just the numbers on the scales. It's about the non-scale victories! Removing an impressive 55.5cm around her waist and living pain free has been a huge victory for her. Peita made this change to better her wellbeing and to feel amazing about herself. Peita achieved this through our 1:1 personal training service, and her commitment to our programs. We are so proud of her!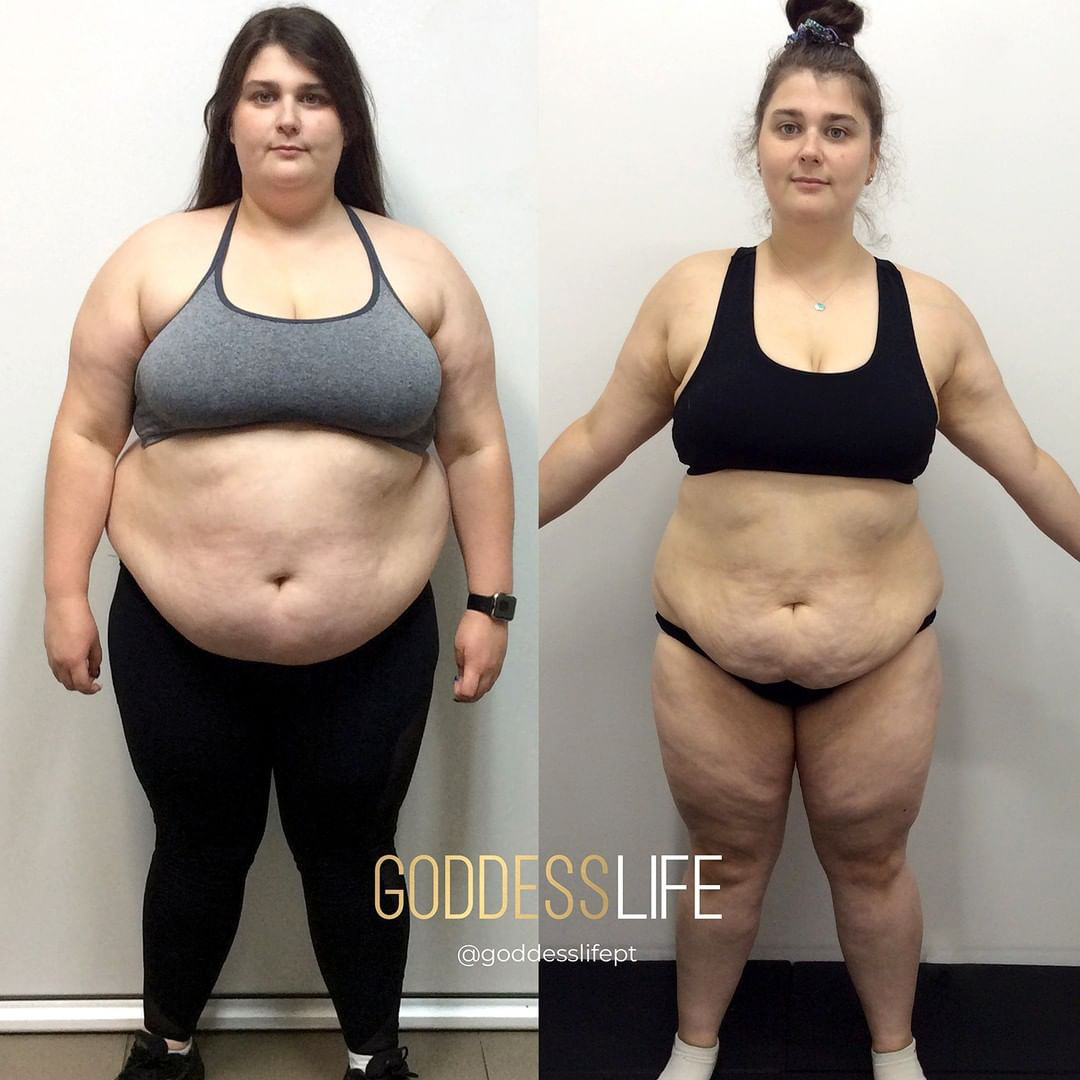 After reaching a certain point in her life, Sarah knew she needed to make a lifestyle change to better her health & wellbeing. She reached out to Goddesslife, and we built her a program that worked around her busy work schedule and fitness goals. She's gained all the knowledge and strength she needed to make a huge lifestyle change and continues to show up weekly to her 1:1 PT sessions. Great job Sarah.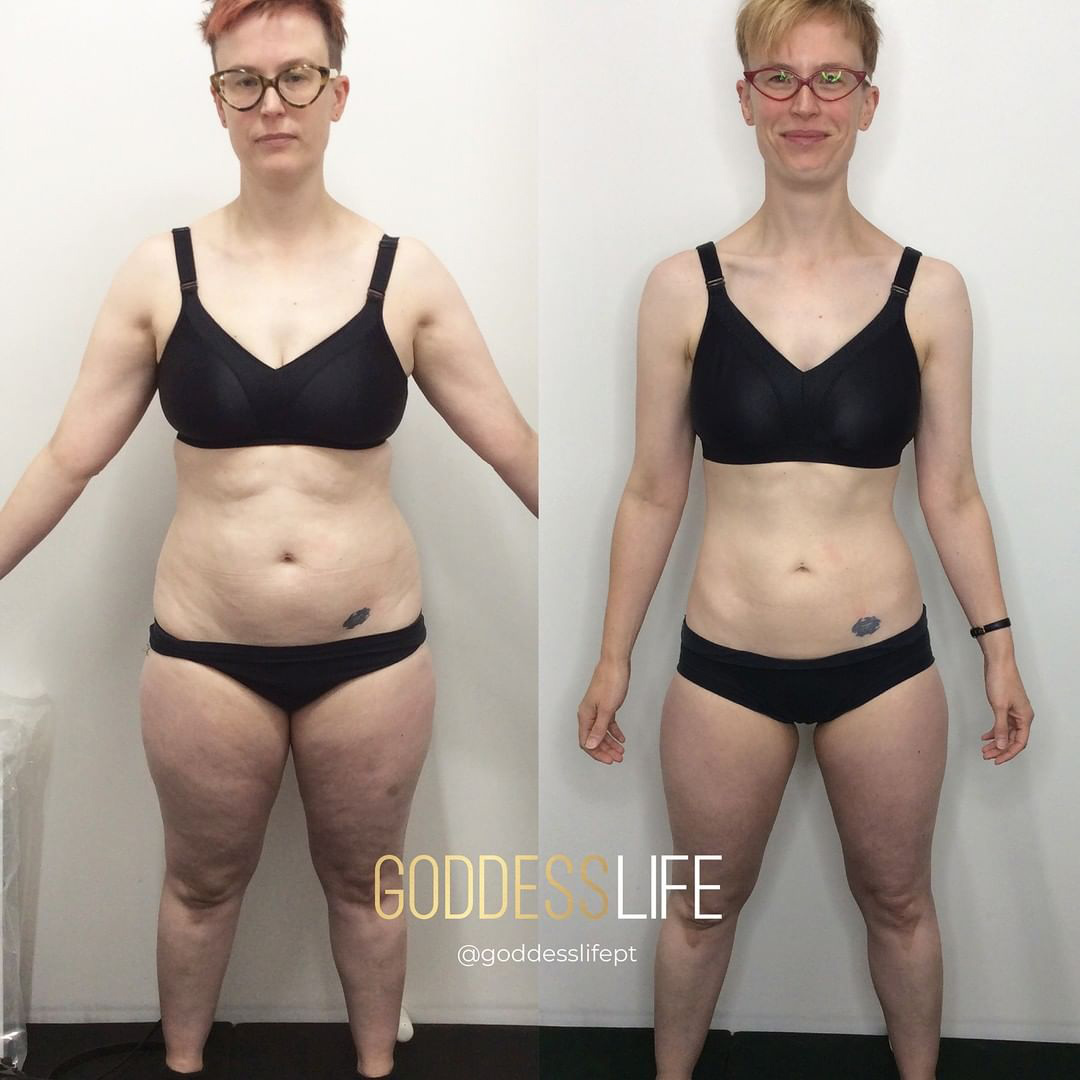 "I love training with Sadie and her team. I wasn't feeling very confident in getting back to the gym and moving but the goddess life studio really helped me to kick start my fitness goals again. A supportive and encouraging (and super clean with the best equipment) environment for women to move, lift and feel empowered to reach individual fitness goals. Thank you, Sadie, for creating this space to train 💪🏼"
"Sadie is just wonderful and everything you could want in a trainer - supportive, encouraging and empowering. I've had bad experiences at gyms in the past but after training for the past few months with Sadie I've been able to become stronger and fitter, and learn how to train correctly so that gyms are no longer scary places. Cannot recommend highly enough"
Sadie truly is the best in the business! Sadie tailors each session to the individual's needs and has been amazing when it comes to working around my disability and ensuring that I always feel supported, even on my bad days. Sadie is an amazing trainer and individual - inside and out; for someone who never thought I'd enjoy exercising; Sadie has completely turned that around for me and I now look forward to every single session. I can't say enough good things about Sadie and the space she has created at Goddess Life.
Sadie is really great to work with. She's very knowledgeable and takes the time to understand what her clients' needs are. Sadie has made me feel comfortable and keeps me motivated with no judgement. She's just a really easy person to get along with and trust. She's probably more of a therapist than a trainer to be honest. I always feel great when I leave, not just physically but also mentally as I know I've achieved something I thought my body wasn't capable of. Also, Sadie's gym is beautiful. The decor is so inviting and she keeps the environment really clean. It further goes to show how much she cares for her clients.
Sadie is a very warm and welcoming trainer, especially for someone who feels intimidated by her body. She always made me feel comfortable and constantly made comments on my growth, which motivated me every single time and made me feel great about myself! She is very consistent with her training and doesn't allow anyone to give up, as she pushes you to your full potential. Would highly recommend her for all ages and body types as all exercises are specifically designed for your desired needs! Thanks heaps once again, for getting me to where I am today!
Best personal trainer out there! I have been going to personal trainers off and on for 5 years. Sadie is the only one I have stuck with for this long. She has a no BS approach but is the most compassionate PT and definitely has your best interests at heart. If you want someone who will always look out for your well-being and work with you to achieve your goals. I love Sadie and I have walked into training in a horrible mood and walked out elated after laughing and getting through the session together. Sadie has exceeded all expectations as a personal trainer and I don't just consider her an expert in her field she has definitely become a friend and part of my inner circle.
Sadie is the best trainer. Before seeing Sadie, I would go to the gym and eat healthy but couldn't see a change in my body. Once I started training with Sadie, she helped me change my routines so that change could happen! Within a few weeks from when I started to see Sadie, I could see significant changes not only in just my body but also in the techniques I use to do certain exercises. Each week I look forward to my training sessions at the beautiful Goddess Life studio. She makes exercising fun and doesn't make you feel intimidated or uncomfortable. I am sooo happy I found her!
Sadie is hands down the most amazing and supportive trainer I've ever had. She has such an incredible attention to detail, which makes all the difference when learning about nutrition and fitness! Even though it's only been 4 weeks, I've never been more excited (or motivated)! to give it my best. For anyone looking for -in my opinion the best trainer in Melbourne for women- look no further! Working with Sadie to achieve your goals will be the best decision you ever make!
After receiving her post-partum clearance, Sandra was determined to make a change in her lifestyle for the better, now that she had become a mother to her beautiful baby boy. With our convenient 30-minute training sessions, this was exactly what this new mum needed. Sandra was able to rebuild her body, focusing on post-partum training catered specific to her needs as well as encouraging and supporting her along the way. As the result of consistent personal training, Sandra was able to decrease body fat as well as strengthen her body for the new journey ahead of her, motherhood.
Training for Frances is more than just the physical transformation. Frances has suffered from chronic pain for some time in her life. She believed that through exercise, the pain would be more tolerable, so she reached out to Goddesslife to make a lifestyle change that has helped her significantly with her pain management. Training is her medication and Goddesslife is her second home! Through diligent training, Frances has decreased a total of 15.2kg on the scales, and 59.5cm around her waist. But this is more than just the physical changes for Frances- it's a lifestyle change because exercise is medicine.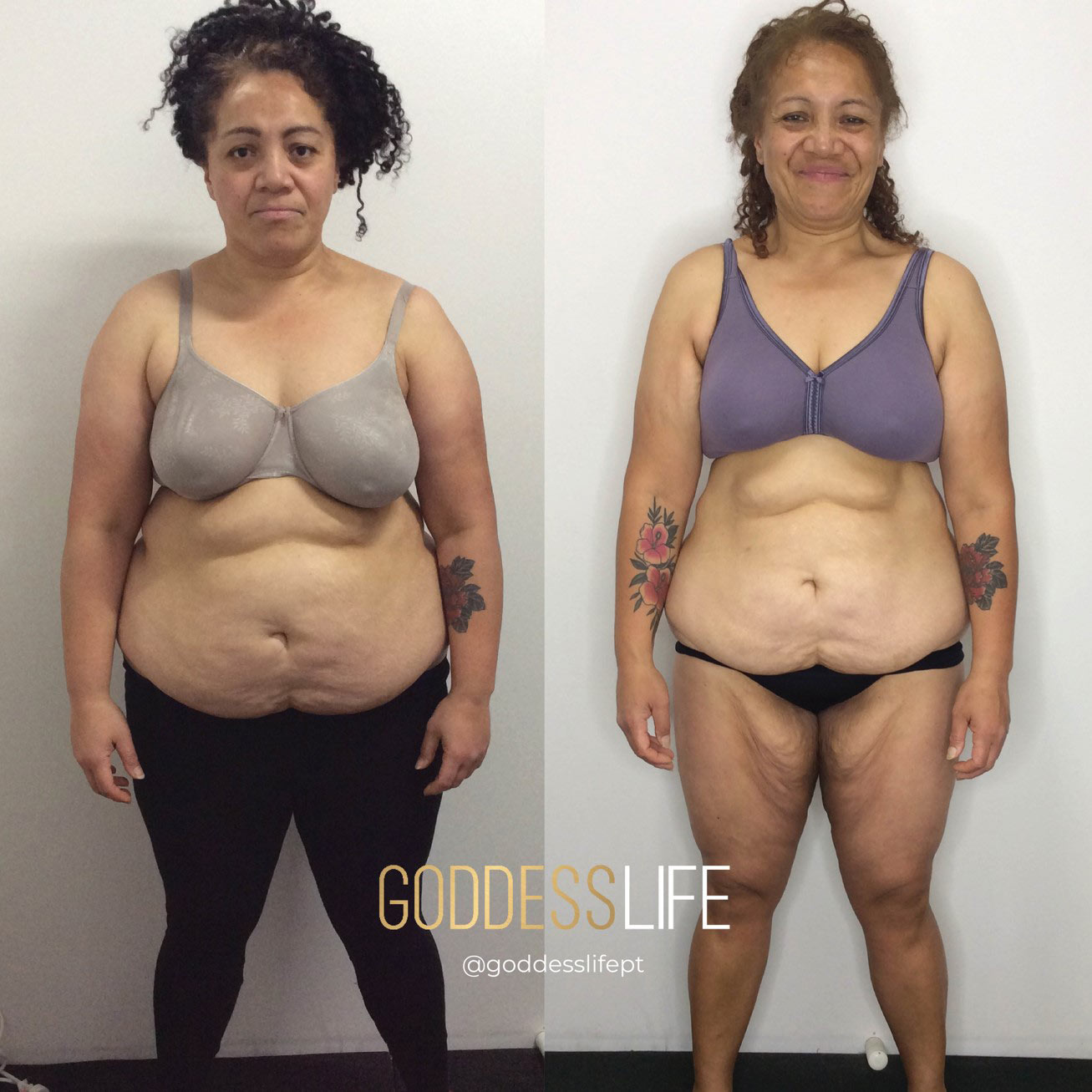 Often Laurence would feel disheartened, unmotivated, and unsupported in her fitness journey until she got in contact with Goddesslife! Laurence has a full-time desk job and the thought of walking into a commercial gym after work seemed like a chore. After completing a full body analysis & goal setting as part of our 1:1 personal training service, we were able to bring to light Laurence's goals of what she was looking to achieve. With ongoing encouragement, guidance and support from her trainer, it sparked a light in Laurence and soon she was the hardest worker in the room achieving her health and fitness goals.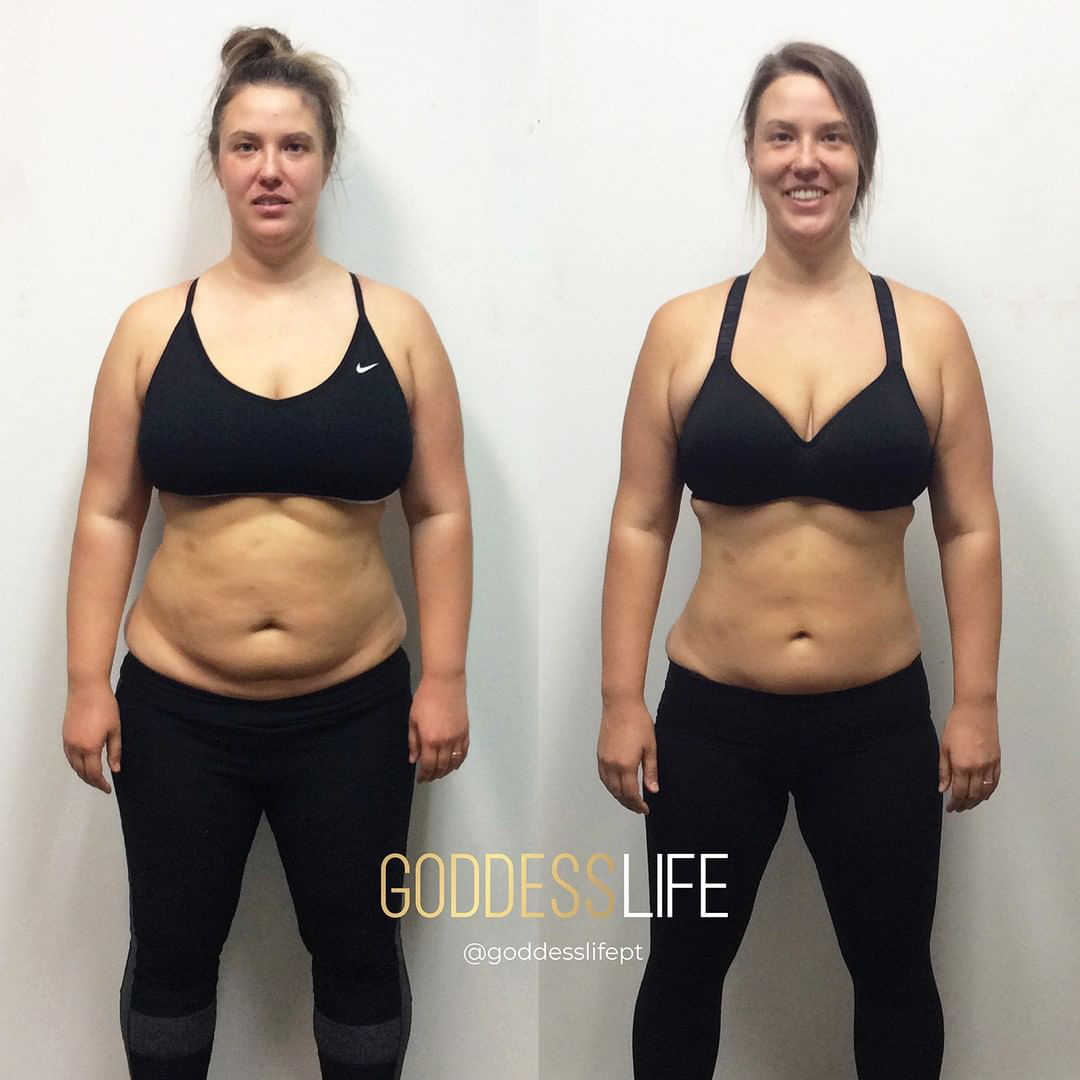 See some of the other amazing transformation by
Take the first step to your
Get in touch with us today for your complimentary phone consult